Earwax Can Oftentimes Build Up In The Ear Canal
These
Sticky Cleaning Swabs are designed specifically to clean the inside of your ears
, removing excess wax and cleaning out debris to keep your ears healthy and strong.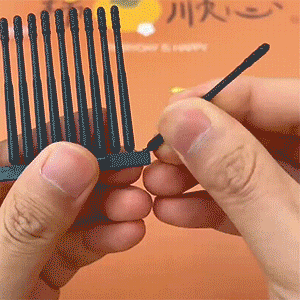 Features
The safe sticky cleaning swabs are especially designed to remove ear wax.
The tip is coated with a soft absorbent gel which picks up earwax.
Features soft & durable gel tip with narrowed ends making them ideal for gently cleaning the ear.
Safe and non-toxic. Does not leave adhesive residue.
Great swabs for ears, as pet qtips, travel, baby cotton swabs, everyday cleaning.
Specification
Size: 5.5 cm in length, 0.3 cm in width (Each)
Material: Water-based Gel+ABS Plastic
Weight: 25g
Quantity: 20 PCS 

Operation Instructions
Lightly touch earwax to be removed;  
Do not wipe with the sticky cleaning swab
Do not re-use the sticky cleaning swab to prevent secondary contamination
Note
Do not expose the sticky cleaning swabs to temperatures 30°C (85°F). Store in a cool dark place and avoid prolonged exposure to direct sunlight.